Fix insufficient storage available error in Android!
When we try to install apps or OS updates onto our Android,If you're seeing the message "insufficient storage available" on your Android smartphone or tablet – and you do have space available – don't panic, just follow these steps to clear your device's cache and you'll be downloading, updating and installing apps again in a matter of minutes.
Here's how to fix the "insufficient storage available" error message on Android.
The main cause for the "Insufficient Storage Available" error is due to lack of working space.There are several possible causes for the lack of sufficient working storage.
Android apps use three sets of storage space: for the apps themselves, for the apps' data files, and for the apps' cache.
Those caches can grow quite large, yet they are reported as free space by Android — though in fact that space is not available as a working space for app installation.
If you get the "Insufficient Storage Available" error, empty your app cache to see if that clears up enough working space for the installation.
How to do so depends on what version of Android you are running, as well as from what device maker. (The screens here are for Android Lollipop running on a Samsung Galaxy S6.)
In most cases:
Open the Settings app, tap Apps, Applications, or Applications Manager option. (Applications Manager might be an option after either Apps or Applications.)
Scroll sideways to the Downloaded section. You'll see a list of all apps and how much storage space they're taking.
Tap the Menu or More button and choose Sort By Size to arrange the apps by which take the most storage.
Tap an app to see how much storage it is taking, both for the app and its data (the Storage section) and for its cache (the Cache section).
Tap Clear Cache to remove its cache and free up that space. You could also tap Clear data, but that removes your files, which is probably a bad idea.
Repeat for each app.
Android manage app cache
In some devices, there's a faster way to clear all the apps' cache in one fell swoop:
Open the Settings app, tap Storage (it should be in the System tab or section). You'll see how much storage is used, with details for cached data broken out.
Tap Cached Data. In the confirmation form that appears, tap Delete to free up that cache for working space, or tap Cancel to leave the cache alone.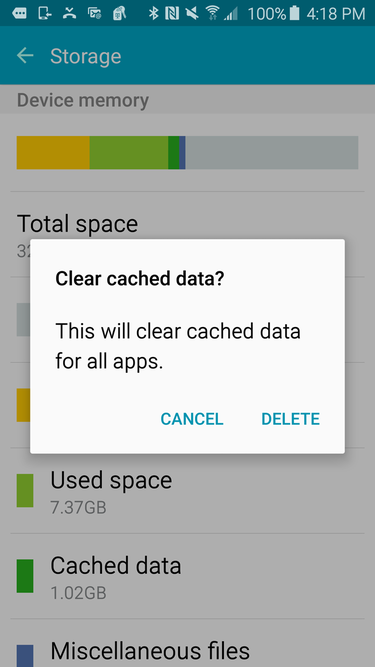 In some cases, Android can purge all apps' caches in one fell swoop, using the Storage screen in the Settings app.
Be warned that clearing the cache may not do the trick in all cases. Android devices that use external storage (SD cards, basically) often have much less usable storage than is reported.
That's because many system resources and some apps must be installed on the device's built-in core storage, not on a removable storage medium.
There are security and stability reasons for this requirement, but they've varied from one Android version to the next, and in some versions app makers get to decide the rules for what can be stored where.
As a result, Android devices with removable storage may need to have apps and data removed to make room for updates and new apps — not only the cache.
If an app data can be moved from internal storage to external storage, do so to free up the internal storage for use as working space for your app installation.
If an app can be moved to external storage, you'll see the Move to SD Card button in the Applications Manager for that app.This option can vary depending upon the phone and rom you are using.
I recommend you to use LinktoSD if you don't have "Move to SD Card":Download LinktoSD
Most Android devices that support external storage usually have too little internal storage (to get to a cheaper price).
Thus, you may not be able to install what you think you have room for, even after cleaning up the internal space. Next time, get a device with at least 32GB of internal storage.